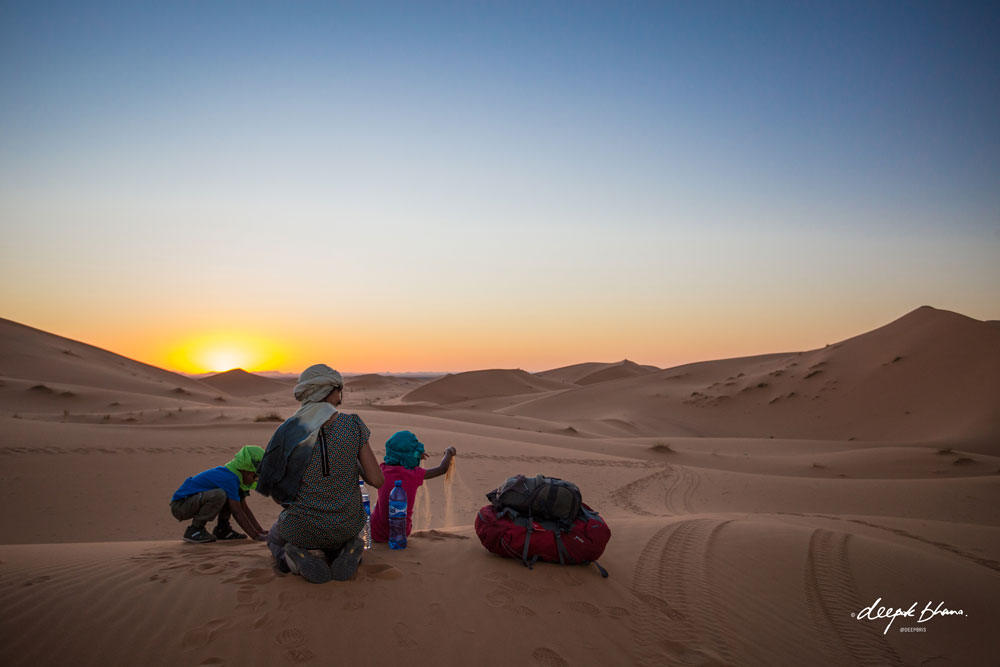 Visiting Morocco with kids! 12 important things they don't tell you (part 2)
todayfarer
0
10 min

read
3722
This is part 2 of our story about travelling in Morocco with kids – and some of the challenges we observed and dealt with for ourselves. We travelled between towns and explored the medinas, and it was always a real eye opener. You could read part 1 first if you missed it. But here are more of our experiences:
7. Transport – Don't leave it to chance
We favour independent travel. Planning our own routes, buying our own train tickets, getting ourselves around on our own two feet. We always make sure we have secured a room every night in suitable locations for children, and transport between towns. But we play it fairly loose with the rest. Morocco might require a bit more planning than some other destinations.
Getting around in Morocco with kids is of course totally doable. There is always an option, depending on what you can pay for. But remember:
– Tours that involve long car trips can be well organised, but child safety seats are not standard. You'll need to order them specifically. Make sure your needs are understood, so you're not faced with the wrong size or an old one that doesn't secure properly. We sent our Merzouga contacts some photos of the ones we use in Australia, and they matched these closely enough.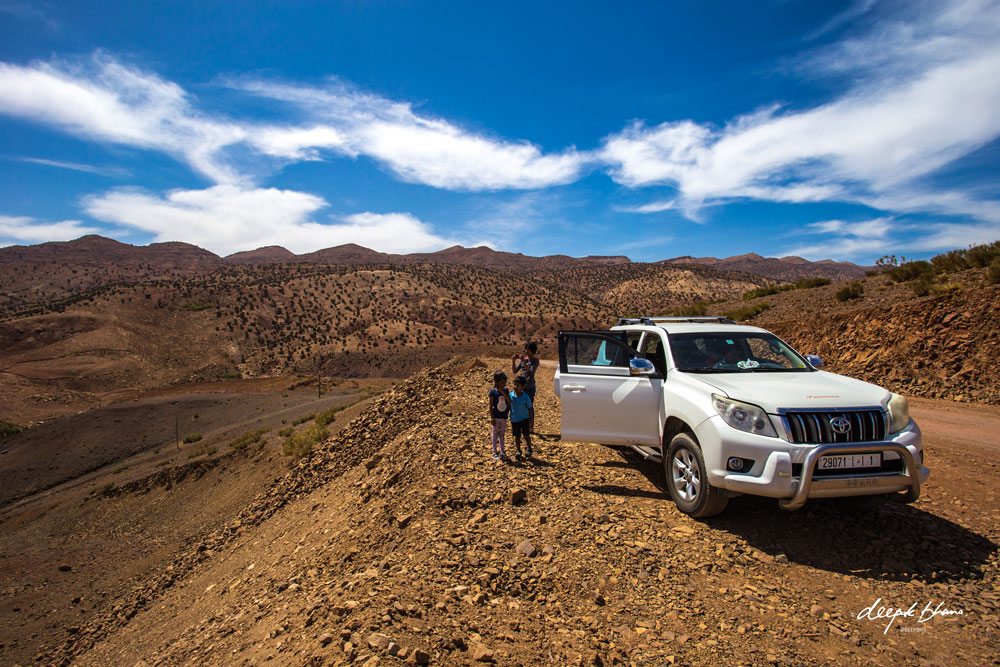 – Arriving in cities like Casablanca, walking between train stations and your accommodation can take you through some run-down areas. And you'll be loaded up with bags and tired kids. We wanted such walks to be short as possible, without any issues. Google maps will give the shortest route, but maybe not the ideal one. So pre-planning our walk with Google street view for these stages definitely helped.
It's important to find the right balance of caution and independence. A tour operator can handle everything for you, but you might give up a lot of the magic of exploring. To keep our independent spirit, we organised our own planes and trains. A great 4×4 tour operator took us on our trip to the Sahara desert in Merzouga. We booked drivers to shuttle us between towns: Casablanca–Fes;  Fes–Chefchaouen; Chefchaouen–Tangier Med. We travelled as independently as possible everywhere in between.
– Expect quite a lot of daily walking for your children between key attractions and accommodation. Cars and taxis only operate in the outer areas of the medina.

The Casablanca taxi story
In areas frequented by foreigners, taxi operators are experienced in the tourist trade, and charge accordingly. You may get ripped off simply because they can get away with it.
In Casablanca, after exploring the Hassan II Mosque, we thought we might visit the Morocco Mall. This should only take about 15 minutes away in a petit taxi (the small, red, city taxis with meters). We knew what the cost should be, and could accept paying a bit more. Unfortunately, the first 3 taxi drivers that stopped took a good look at our family and told us their meter wasn't working. The estimated price? 3-4 times what it should have been. The tone was always more of a demand than an offer. We've travelled around long enough to know this trick: a hard, confident voice, but furtive glances around to see who is watching. So you weigh up the possibility this taxi driver could pretty much take you anywhere, or change the price later, and you wave him on.
The next option was Uber; the app appears to work in Casablanca, hooray! That is, until you see the car you ordered on the map getting off the route and heading somewhere else. Fail.
Now add the expectation you will be making the return journey in the dark with tired kids. Is a shopping mall really worth the hassle? We didn't think so.
Third World realities like this are part of travel in Morocco.  You don't have to get angry about it, but you don't have to like it either. You don't have to feel there is a justification because of the local economic situation. If someone tries to rip you off, that's solely on them.
8. Rest, sleep, and the big alarm clock everyone shares
Travelling in Morocco can be an intense, busy experience from day to day, filled with all the highs and challenges we're talking about in this story. You'll often head back to your riad or hotel with tired muscles, heavy legs and a head full of wonder. Ready for a satisfying rest. One of the best feelings in the world!
Every parent knows that small children's routines revolve around sleep. The daily energy level of the whole family depends on the quality and quantity of sleep of the youngest child!
In Islamic countries you can expect a morning call to prayer between 4am and 6am (depending on the time of year). With a high density of mosques in every medina, minarets topped with loudspeakers, this will be impossible to sleep through. It has an insistent quality, carries on for a while, and is an iconic memory of your travels in Morocco.
Don't forget that getting back to sleep can be very unlikely for small children. Once they're up, they're up – and the day has begun. So to compensate, let them rest when they need to, or put them to bed a little earlier.
We found a site that will tell you what time you can expect that wake-up call in your Moroccan location: Check locations, dates and times here.
9. Toileting – miss your window and learn a new parenting 'skill'
Ok we don't have a photo of this, thankfully. You'll understand that capturing this moment was nowhere on the priority list.
Your kids may not have seen a Moroccan-style toilet before, as ours hadn't. Riads, tourist attractions, cafes and many other places are equipped with 'western' facilities like the flush toilet we all know. But in many countries, Morocco included, there are very many traditional squat toilets. These make sense in many communities because they are functional, and easier to keep clean in populous areas. But yes, it is a hole in the ground that you squat over.
Never used one before? We'll just put this link here for the how-to.  (And this link is just a post we just liked on the subject.)
The point is, sometimes the moment strikes, and your child has missed their opportunity back at the riad. We were on the road and passing through a dusty little town, and the words "I need to do a poo" came cheerily from the backseat. The only place to stop was the local cafe: small, run-down, and less than clean. Just four guys sitting on old plastic chairs watching soccer on an old TV. But hospitable and happy to let us use the facilities. Of course, our four year old had never seen a squat toilet, let alone perfected his squatting technique. So dad had to hold him over the target… and then work out how to get all the steps accomplished. You get the picture?
This could happen to you, and of course you will deal with it successfully – because you're a parent. Just remember there won't be any toilet paper, you'll need to have your own. And when in Morocco with kids: never, ever, ever forget the hand sanitiser!
10. Vigilance is all on you. Your kids don't need to know
Another note on security. Being a stranger in a strange land doesn't mean you have to always look over your shoulder. But when in Morocco with kids, it is a useful habit. What's more, as a parent you don't want your kids to worrying about what might be concerning you.
In Marrakech, we were quite happy to use Google maps to help us navigate the medina. It's reassuringly accurate, even when you're in a kind of labyrinth that was built centuries ago. But this doesn't mean you know the lay of the land. We planned one morning to walk from our riad to the Bahia Palace. Instead of going through the medina, we chose a simple-looking route along Avenue Imam El Ghazali, so we could walk alongside the medina wall.
Our riad host advised against this, saying 'Oh, don't go that way, there isn't anything to see there.' But we wanted to stroll along the wall so we did so. On the way came across a bank where we changed a few Euro for Dirhams. There were a few suspicious men hanging around outside when we exited. One followed us on our walk to the Palace, keeping a fair distance but clearly having nowhere specific to go. We realised that our host was probably trying to diplomatically guide us away from this particular area, towards tourist-frequented routes. Without telling her guests about dodgy areas in Marrakesh. After all, her industry is based on happy travellers, not bad word of mouth. We quickly evaded that particular character at the first opportunity, and didn't see him again.
Children don't have to know why you're speeding up their walking pace, why you're checking behind you to keep a stranger in your sights. They don't need to know why your camera is tucked away in a bag or why you randomly cross the street twice. But for their sake, you will need to retain a certain level of caution at all times.
11. Kids need a big, fun attraction. Morocco has camels!
We knew a highlight of our trip would be the camel trek and desert camping experience in Merzouga. But we were still amazed by how much those awkward camels captured our children's imaginations!
The journey to Merzouga – where Morocco meets the Sahara desert – is an event in itself. Faced with the arduous 9-hour drive from Marrakesh, we instead broke the drive over three days. This reduced the in-car time for the kids, and freed up time to experience wonders like Telouet, Ait Ben Haddou, and the Dades and Todra Gorges. When we finally saw camels in the flesh, the children were giddy with excitement.
From the mini-rollercoaster that is the 5-second mount-and-stand-up, to the gloriously disgusting and mesmerising frothy saliva from a camel's mouth, kids will be enchanted. The slow walk through the dunes is only an hour in the saddle, but for them feels like endless fun. Going up every dune is like being king of the their little world, and tottering down the other side is like an adrenalin rush. Even touching the rough hide of a camel is something for them to be proud of.
On asking them to name their camels, they came up with these original gems: Camely and Camelita. Precious.
When your travel list is filled with adult-oriented activities and attractions, you have to include at least one special experience for kids, and kids alone. Time it just right, and it gives your kids something to look forward to through the less interesting parts. If you're lucky,  it also sticks in their minds as something fun to remember as the rest of the trip wears on.
So if you're in Morocco with your brave, patient children, remember the gift of camels.
Oh, and the whole camping under the night sky, watching shooting stars, and playing in the biggest sandpit in the world – that's not too bad for them either!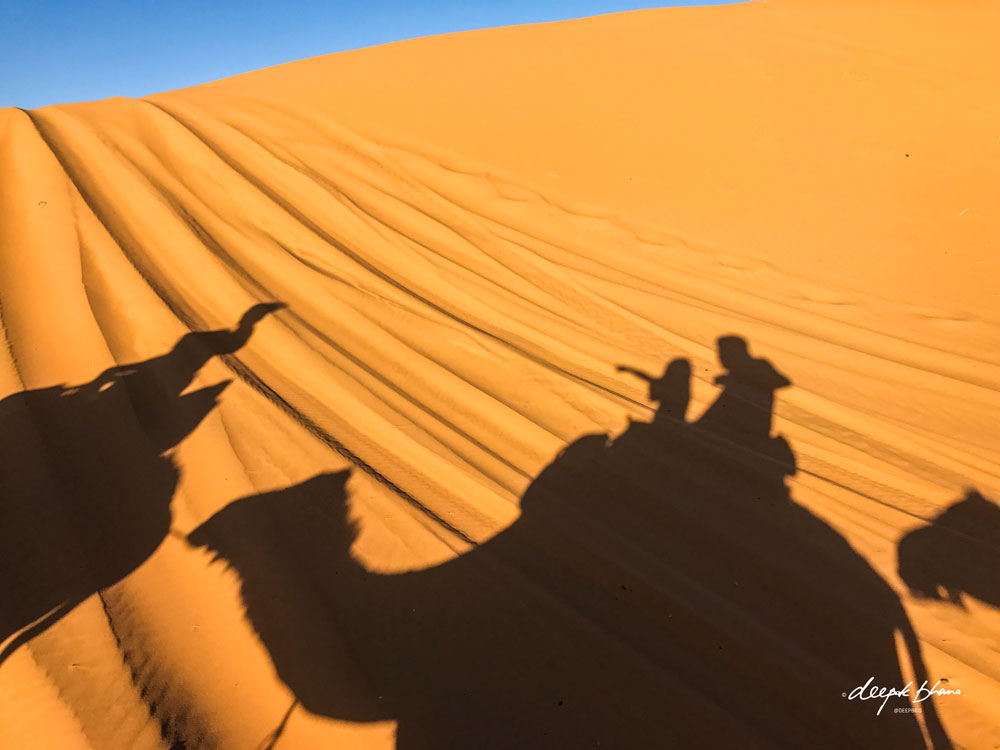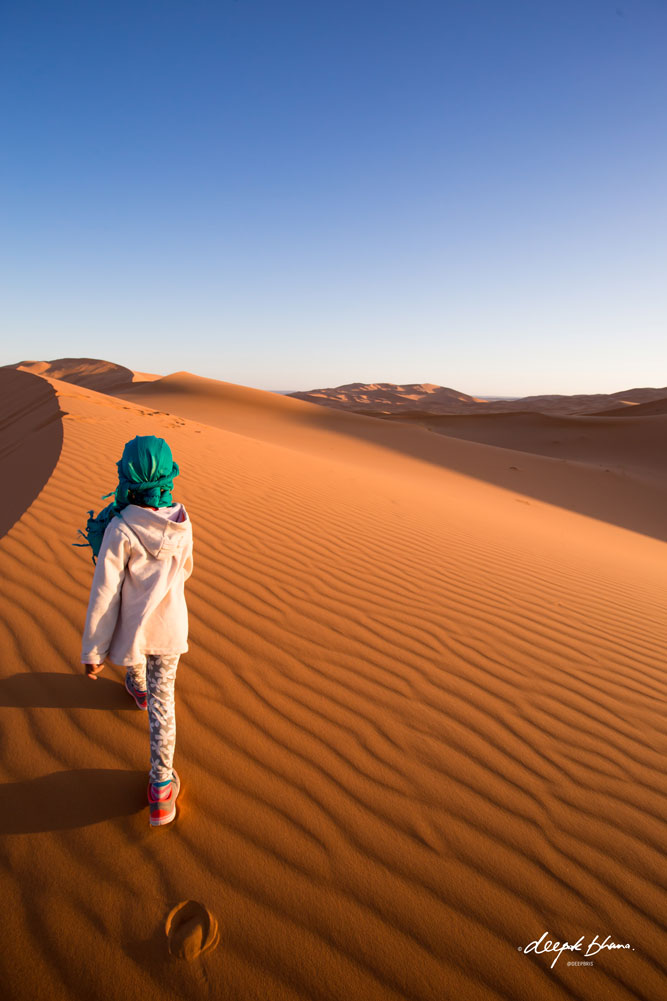 12. It's so worth it.
Morocco is as fascinating as you might expect it to be, with generous doses of challenge and trepidation thrown in as you go. Some may feel that children are an added responsibility in an already-confronting environment.
Although you may not personally know many people who have made this trip with small children, it really is doable. Yes, when you're there, there seem to be very few travelling families around. But with good planning, an adaptable outlook and simply working things out together, Morocco with kids is totally worth it.
As a learning experience, for both your children and yourselves, Morocco is truly memorable. And you'll come back with photos of your kids that are really something special.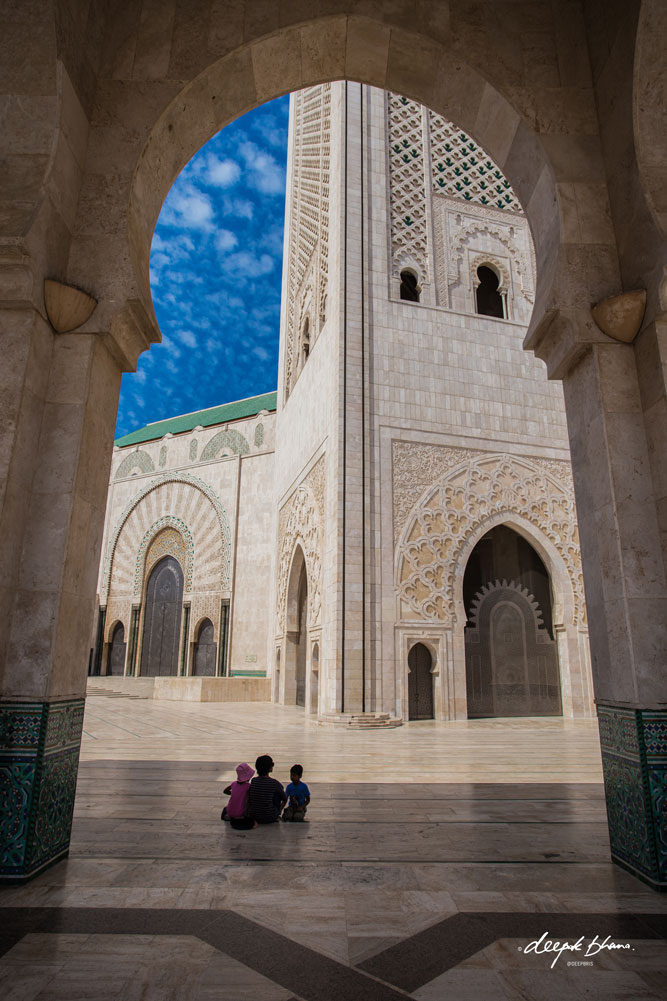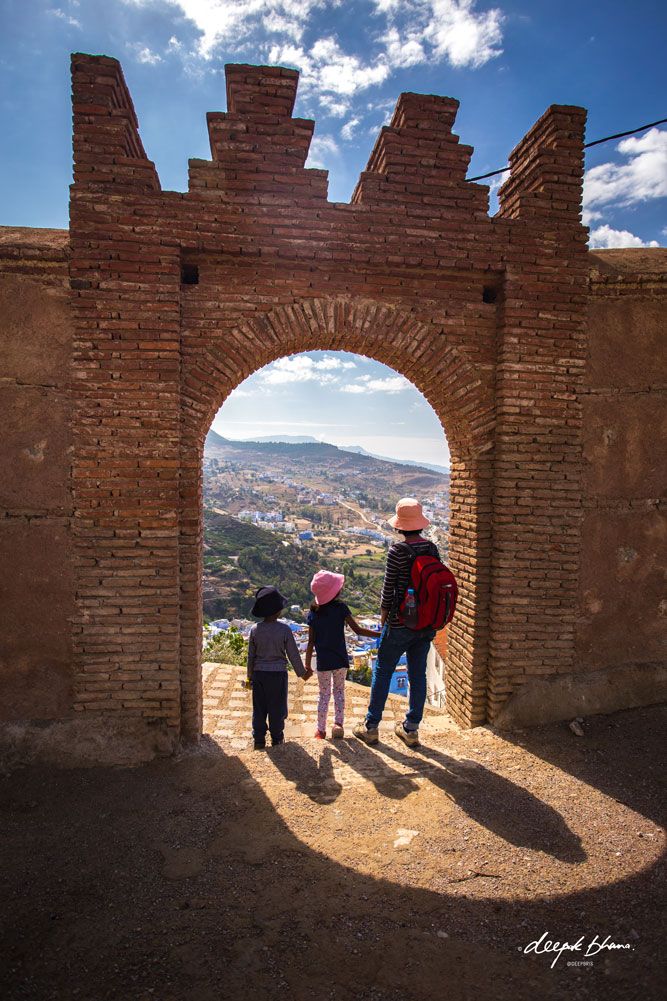 For more stories from our Moroccan adventure, check out our photography of the awe-inspiring Telouet Kasbah.
Or if you missed Part 1 of this story, here it is.
We'd love to hear your own tips and tricks on travelling with kids, you can share some in the comments below. Happy travels!
TRAVEL LOVE IS FOR EVERY DAY. LIKE TODAY!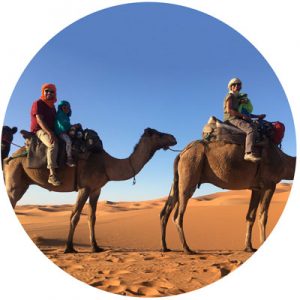 This site is about being inspired by what's real out there, on journeys that matter to you.
We're a normal working family, not endless wayfarers or travel agents! We love exploring; in our daily daydreams, and on our trips.
Todayfarer gives you our travels, photos, views, and tips for getting more out of your own authentic, positive world experiences. 
Maybe you're a 'todayfarer' too.  
Categories