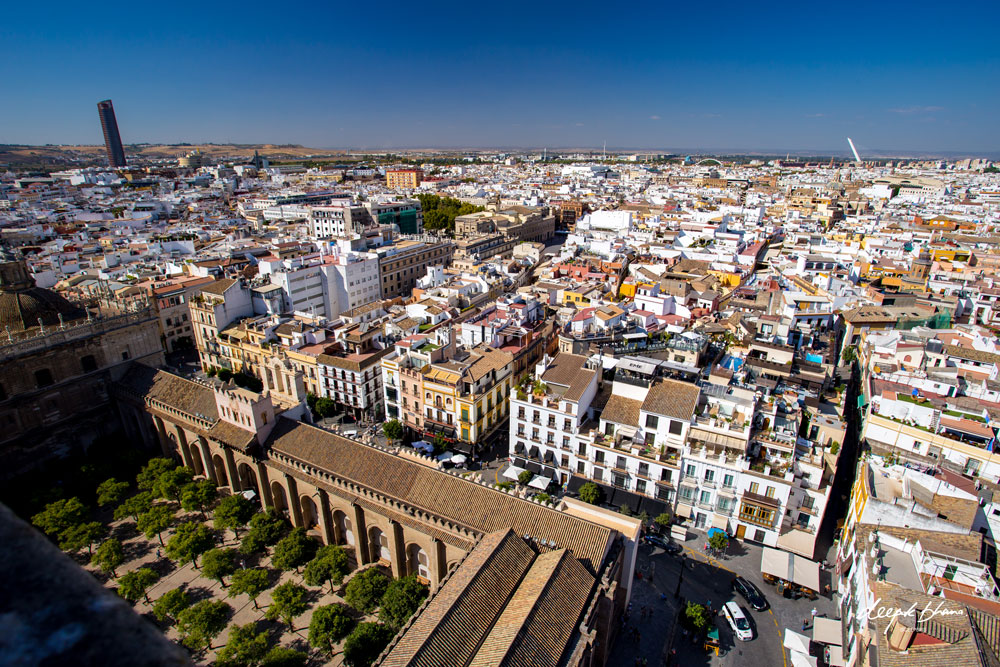 10 reasons why we love Seville, Spain
todayfarer
0
8 min

read
10332
Seville was always on our list of Spanish locations to experience – but it turned out to be so much more than we expected. If you're looking for reasons to visit this captivating city, any list could go up to 100. We won't go that far; here are the 10 reasons why we love Seville, Spain.
1. Seville, slowly
There is something about Seville that just seems less rushed than you were expecting.
Yes, there is bustle, and traffic, and a pretty healthy tourism economy at work. The Real Alcazar can be crowded with visitors. You have to surreptitiously check if cafes nearest the attractions are serving authentic food or tourist food. But these don't seem to add up to the same hectic pressure you find in other cities of this size. Instead, we found an understated vibe that seems to float down every street. Locals and tourists alike seemed to us to be less hurried, and less demanding.
Take a few steps from the well-trodden path and you can slow down, and mix in among the locals. Simple tapas bars, regular shopping precincts and parks are all a traveller needs need to feel more at home. In Seville, you'll find these with ease.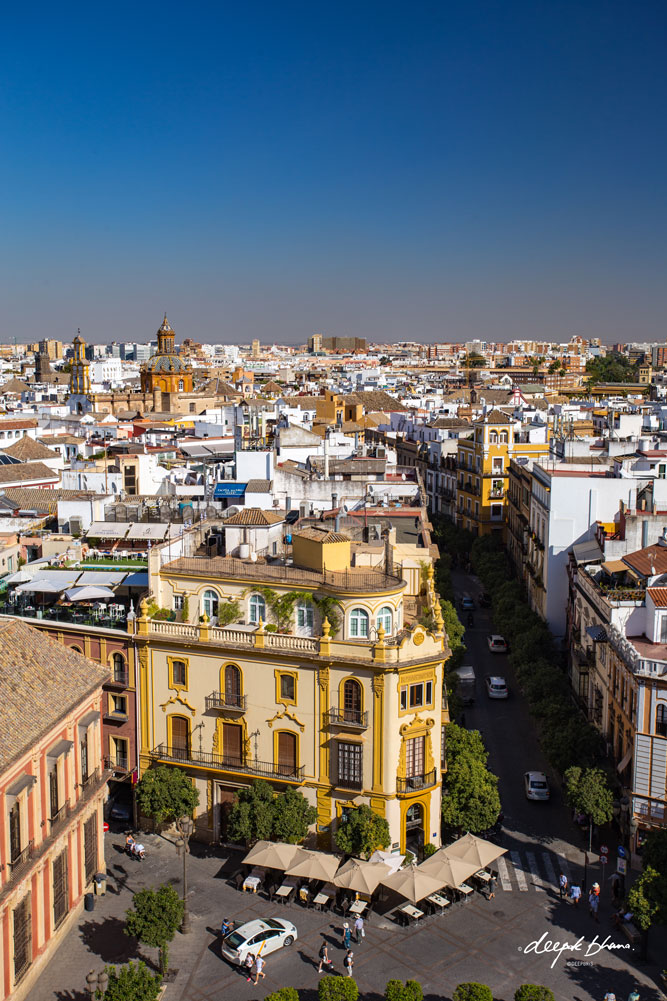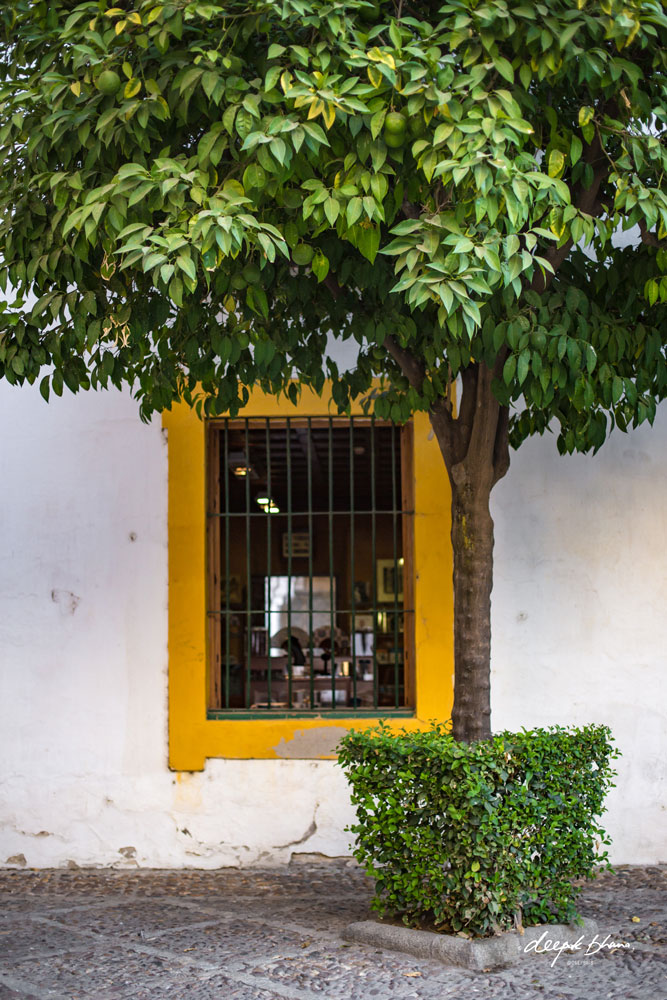 2. So walkable
We booked our Airbnb apartment in the Old Town, and this is where the compact nature of the city comes into its own. Even with children (you don't set your daily walking limit, kids do!) it was never more than a 25 minutes stroll to the things we wanted to see, or to get back to our flat.
The ability to leave your accommodation without needing a day pack and a plan for public transport is becoming rarer as cities grow. But Seville seems to have a perfect balance of vibrancy and proximity. Having booked the right location, all we needed for a full day out were hats, sunglasses, some Euro and our mobile phones. And camera, of course!

3. Authentic bars, tasty tapas
Another thing that will make you appreciate Seville is knowing that authentic, unfussy food can be found easily – both near your accommodation, and near the attractions you want to visit. You hardly need to plan ahead.
Locals in Seville love to eat out, and you'll benefit from the myriad bars, cafes and restaurants the city offers. When eating-and-walking is the requirement of the moment, even street food sellers can be found in the local plaza.
We're not tapas aficionado's, but we didn't have one bad tapas experience in the 8 days we spent in Seville. There was the tiny bar-cafe in the shopping precinct with old plastic chairs and one kind of beer which only cost about AU$2.50 a glass (thanks, Emilio! He seemed to be both owner and server).
Then there was the trendier bar in the plaza across from the church El Divino Salvador, which was teeming with locals. It had most genuine vibe at midday when office workers were taking a break. The vibe didn't change after dark (picture below) as people relaxed after a church wedding.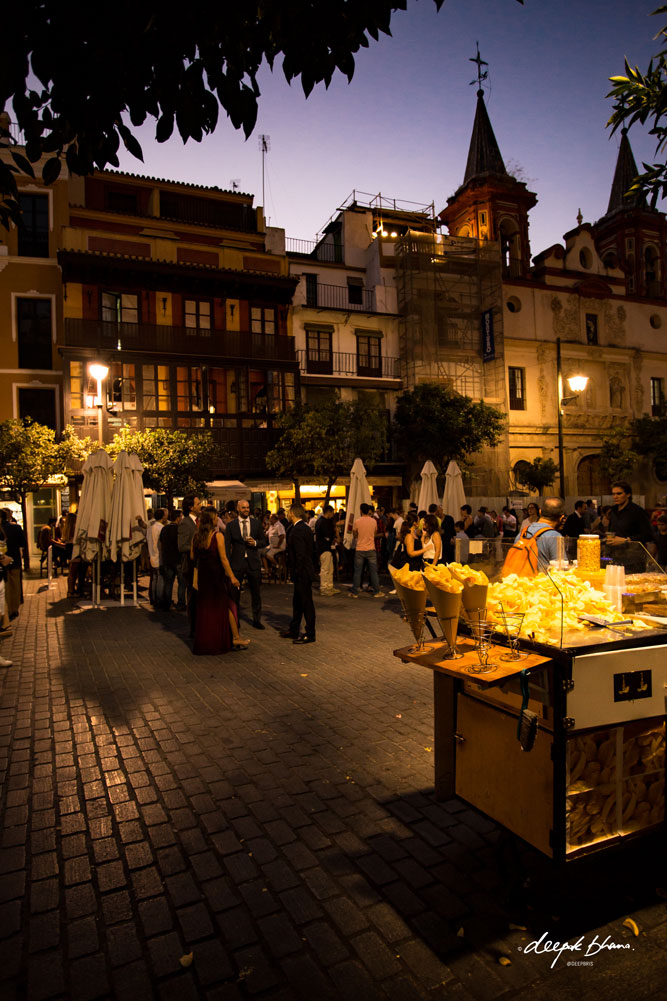 4. We love Seville's Moorish-European mix
As we learned in Ronda and Cadiz, the Muslim 'Moors' who ruled large parts of Spain for 8 centuries until 1492 forged a huge part of the history of Andalucia. Christian rule has endured since.
This city is another example of how these two contrasting religions are forever overlapped in culture of Andalucia. From robust arches and domes of the visible architecture, to hidden Morocco-reminiscent courtyards in the Spanish buildings, links are everywhere. We love Seville for its open, visible history.
Olives and oranges, ceramic tiles and ornate lamps; Seville is a modern European city with earthy North African roots, and the interplay is captivating.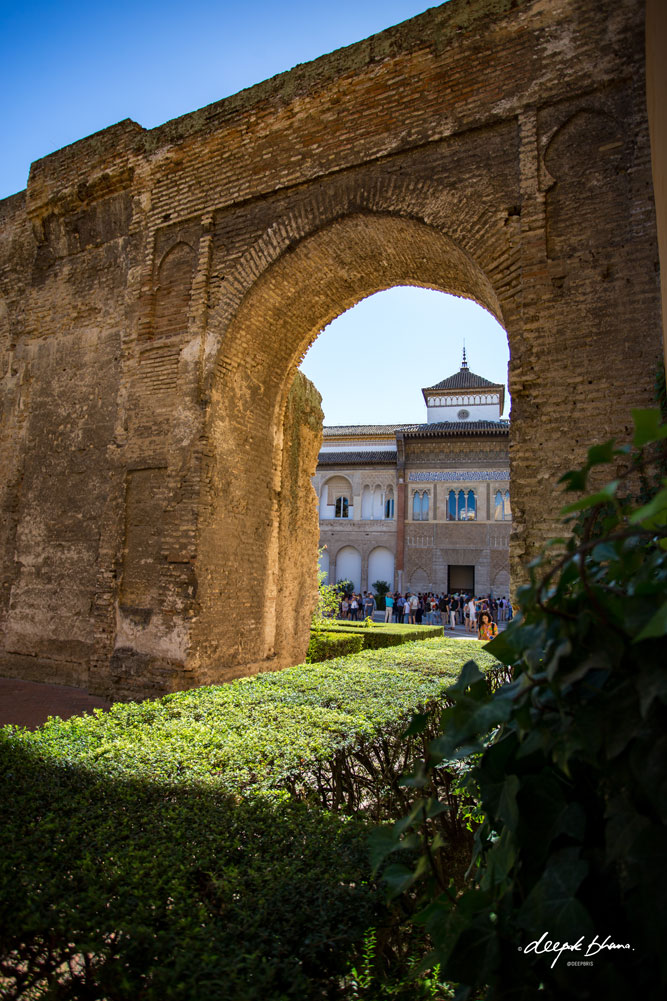 5. Friendly people
Maybe it has something to do with the gentler pace of life, but the people of Seville seem to be at ease with the tourists in their midst.
Of course there will be some friction when hundreds of thousands of visitors pass through a city each year, but we didn't experience anything like that in Seville. Everywhere we went, people were courteous and smiling towards us, and not overly concerned with us.
Then again, there was that one patisserie where everyone who worked there seemed to be annoyed for some reason. But that's probably from indulging in too much of their own exclusive coffee brand!

6. Seville Aquarium, great for kids
Kids need more than just a park, a playground and some ice cream. We paid a visit to the Seville Aquarium – to be found a convenient walking distance from Plaza de Espana – and it did not disappoint.
Yes, it costs a similar amount to what first world aquariums usually cost, which is never cheap. We paid €50. (€15 for an adult and €10 for kids aged 4-14years old.) But totally worth it. A modern aquarium, impeccably maintained, with a wide range of exhibits. Plus it's an air-conditioned break from walking in the hot weather, and it's always great to see your children's eyes widen at new sights.
The best way to enjoy it is to slow right down and take more time than you really need as you move through. Appreciate every tiny detail. (Avoid the 'Ikea' effect – don't be pushed along by other visitors who are simply going through too fast). The experience is fun, it sticks in your kids' memories, they talk about it more, and quite simply they deserve it.

7. Security conscious Seville
In today's unpredictable world, we wonder about the security situation at each location we visit. In Andalucia, the police were present and visible at the attractions we visited, and could be seen generally patrolling the streets too.
But our last experience in Seville left us feeling even more looked after:
When we were picked up by a taxi driver for our final trip to the airport, we clarified the fixed rate before getting in (always a good idea, no matter where you are). Agreeing on €22, we headed to the airport and pulled up at Departures, where we noted airport police with automatic weapons at the doors. They kept their eyes on us, and on our driver. After we entered the departure hall, they stopped us. Their English was not great, and our Spanish was worse. After some apprehensive false starts to the conversation, we realised they wanted to know how much we paid the taxi driver.  When we said €22, they smiled and told us they just wanted to make sure we were not overcharged.
Seville police, we thank you!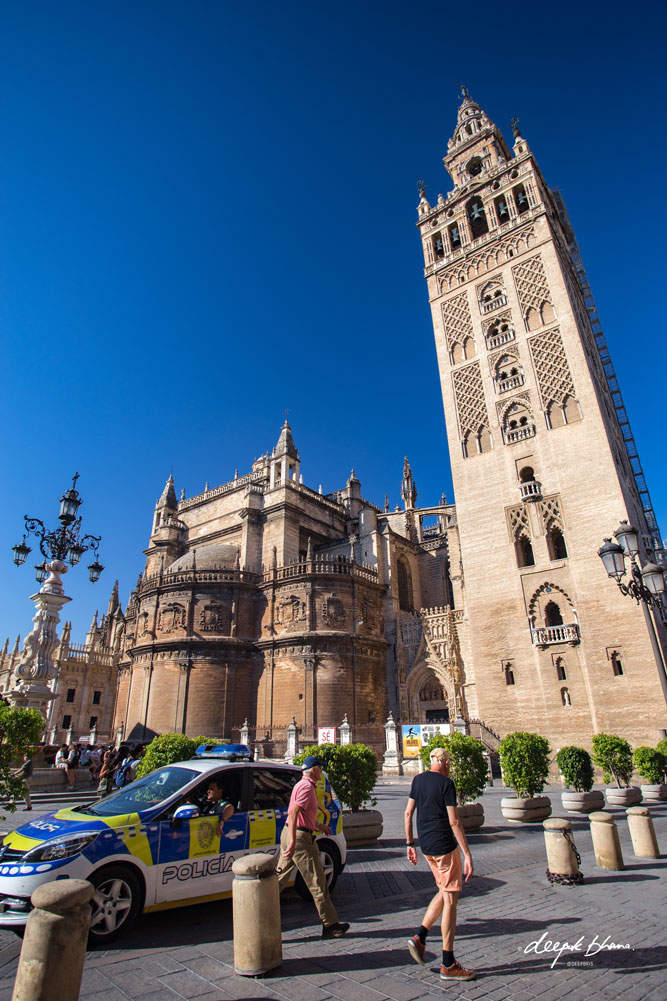 8. Wrought iron
Across Spain, gorgeous buildings with charming balconies are everywhere. But the wrought iron detail on all of these are something special. From windows to park benches, this craft is visible wherever you go. It's timeless and authentic, and places an unmistakable character on Seville, and on Spain. Here are just a few photographs of this fantastic work: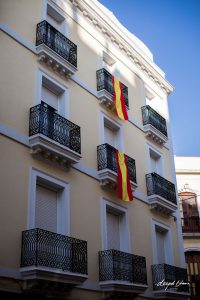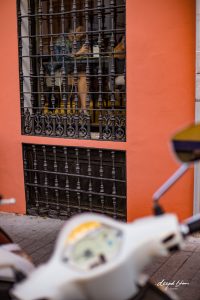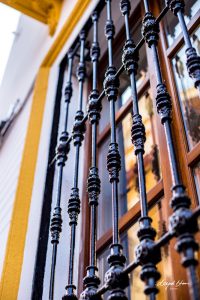 9. Nightlife for families
When you're in Seville, be sure to adjust you body clock to Spain time.
No, we're not talking about GMT +1.
We're talking about breakfast after 9am, lunch from 2-3pm, and dinner around 10pm. Nowhere else have we visited and found this alternate schedule – to then realise it works so well for a traveller.
Firstly, who needs to wake up early when they're on holiday? Sure, let's do breakfast when we all feel like it.
Secondly, lunch shouldn't be something you fit in between meetings or gobble down on a park bench as quickly as possible. A later lunch is a more relaxed affair; a good catchup and a decent meal, and a chance to break away from the heat of the day.
Best of all is the late, late dinner, and the chance to walk around streets in the cool pre-midnight air with people still out and about, including families.  The night isn't the domain of the young adults, nor is it filled with those who have had too much to drink. We love Seville nights for their great suppers, warm vibes and happy chatter, and more exploring.
Surely this is how life is meant to be lived?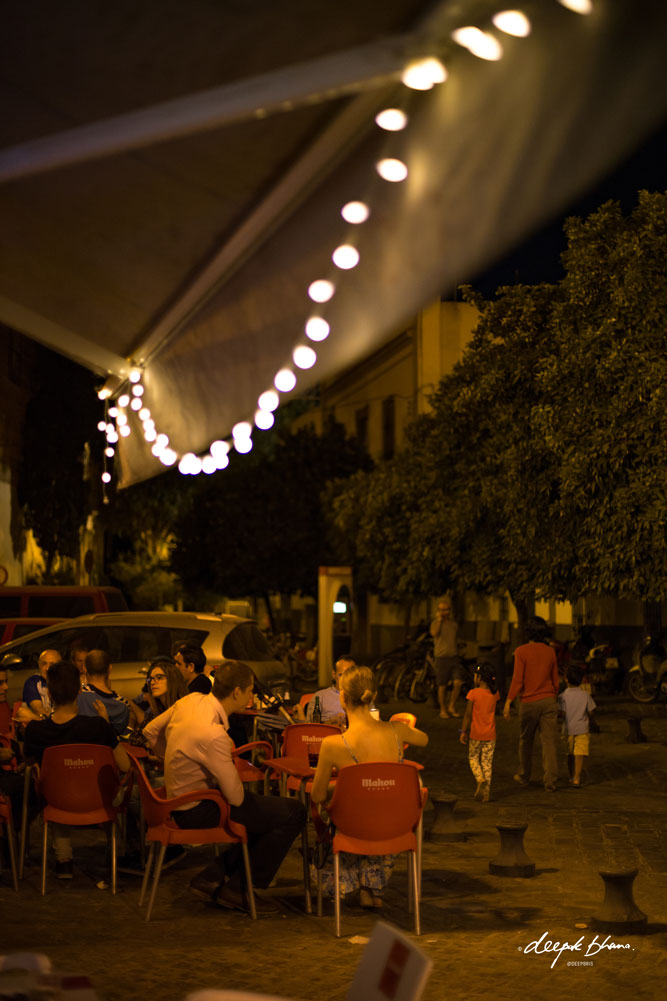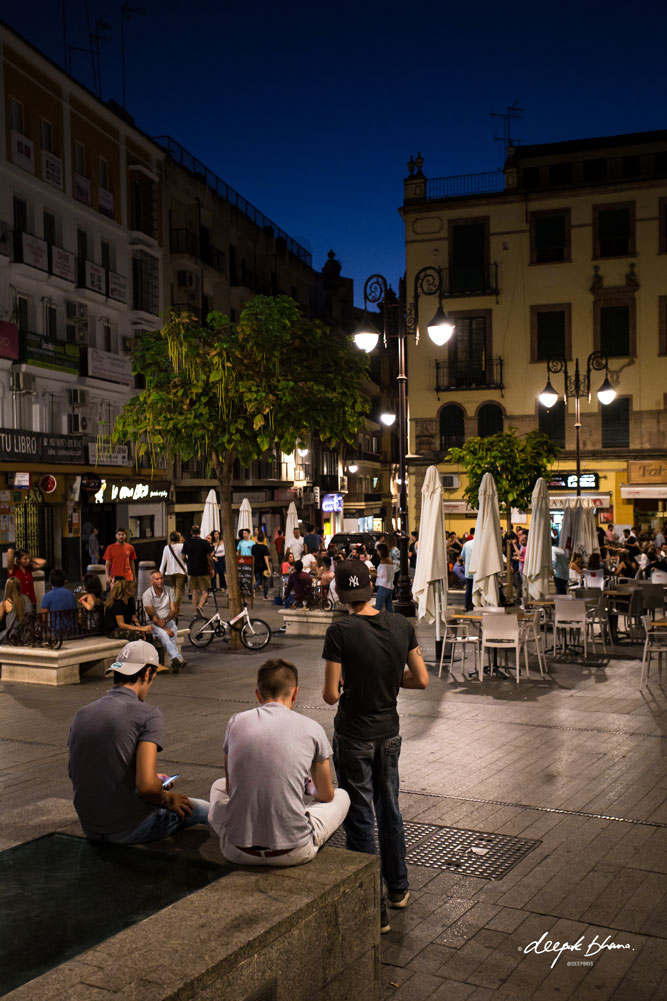 10. Easy day trips, Seville to Cadiz or Córdoba
In our list of 10 reasons we love Seville, #10 isn't in Seville.
But the chance to take a day trip to Cadiz or Cordoba really rounds out the Seville experience. Fast trains will get you to Cordoba in only 45 minutes, or to Cadiz in about 75 minutes. That leaves plenty of time for exploring these great locations without having to deal with new overnight accommodation. The Cordoba Mosque-Cathedral is a must-see attraction, and the port city of Cadiz made for one of the most relaxing days we had in Andalucia. See more from our charming Cadiz day trip in this post or see a few photos of the Mosque Cathedral of Cordoba here.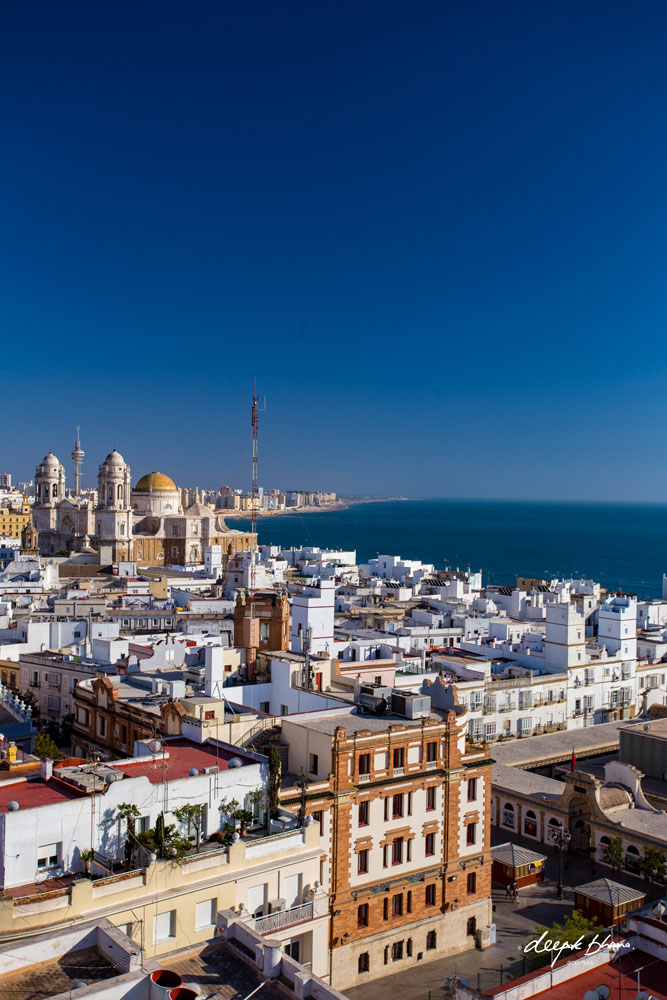 By the end of our trip, we spent double the number of days we expected to be in Seville, and it worked out perfectly. If you want to know how luck (bad and good) played its part in realising why we love Seville, read this post about how we missed out on Barcelona.
I have no doubt that we will see this bewitching city again.
It seems Seville has the power to stay with you, and call you back.
Does the thought of more time in Seville sound good? Tell us what you would most like to do in Seville or in Spain, in the comments below. Happy travels!
TRAVEL LOVE IS FOR EVERY DAY. LIKE TODAY!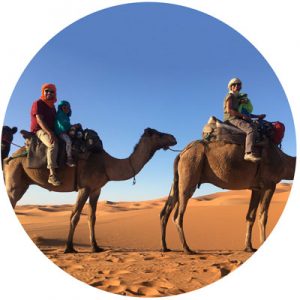 This site is about being inspired by what's real out there, on journeys that matter to you.
We're a normal working family, not endless wayfarers or travel agents! We love exploring; in our daily daydreams, and on our trips.
Todayfarer gives you our travels, photos, views, and tips for getting more out of your own authentic, positive world experiences. 
Maybe you're a 'todayfarer' too.  
Categories