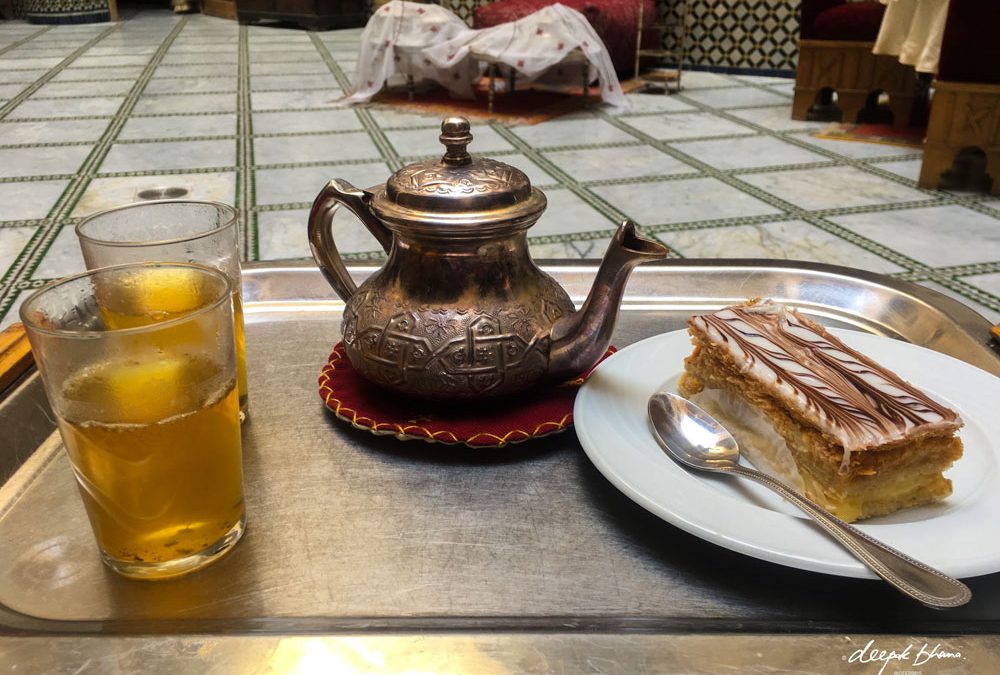 Moroccan food you'll always remember: Our 6 best
todayfarer
1
6 min

read
4164
Anyone planning to visit Morocco will have given some thought to its exotic – and by now quite famous – cuisine. We're no sophisticated foodies, but here's a quick run down of the Moroccan food we will always remember our trip by. You will come across most of these flavours daily; so it makes sense to enjoy them more than once! And we did.
1. Mint tea
Everywhere, and anytime. Mint tea is the iconic, everyday experience of Morocco. It is the drink that links everyone. No matter their social standing, wealth, occupation or country of origin – pretty much everyone walking around Morocco has tasted some mint tea today!
It might be sweeter than you imagined, but served lukewarm rather than hot, the refreshing mint really comes through. Even better, it is served to children too – if they don't like it, you get a second glass!
Arrive at your Marrakech riad: mint tea and biscuits. Your Merzouga guest-house: mint tea and roasted peanuts. Stop off at a tiny shop for a bottle of water: the shopkeeper is enjoying his morning mint tea and offers you some. Catching the view of the Chefchaouen valley from an upmarket hotel: mint tea (at twice the price!). Mint tea will be the first of many warm Moroccan welcomes.
Don't be surprised if by the end of your trip you are having in depth conversations about the regional differences in quality, taste and appearances of this humble beverage.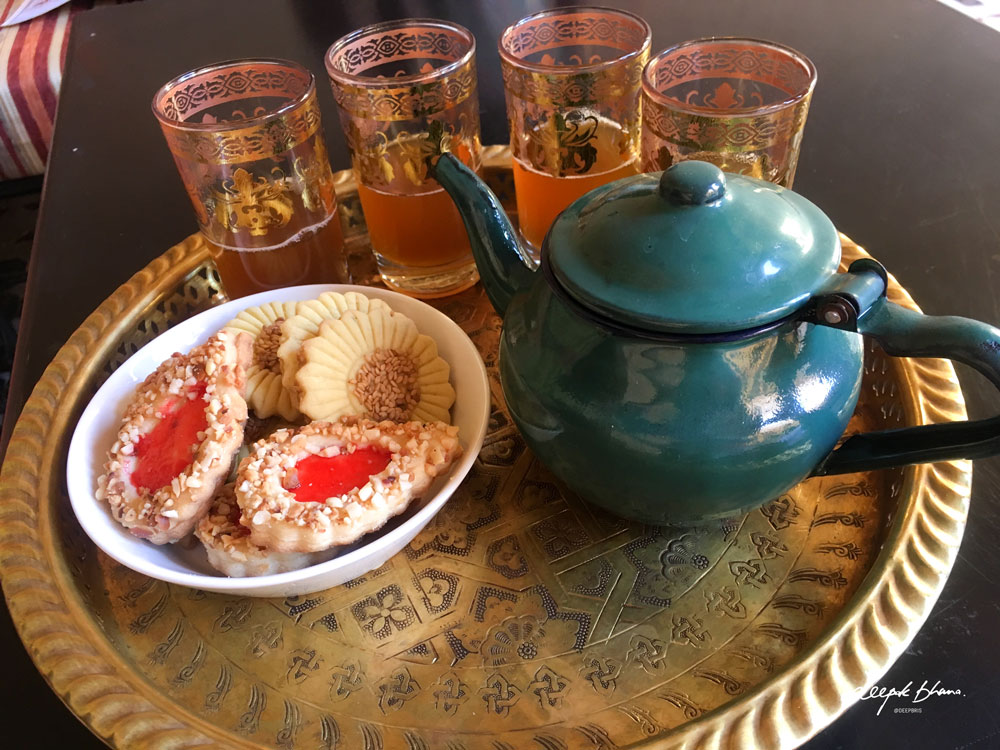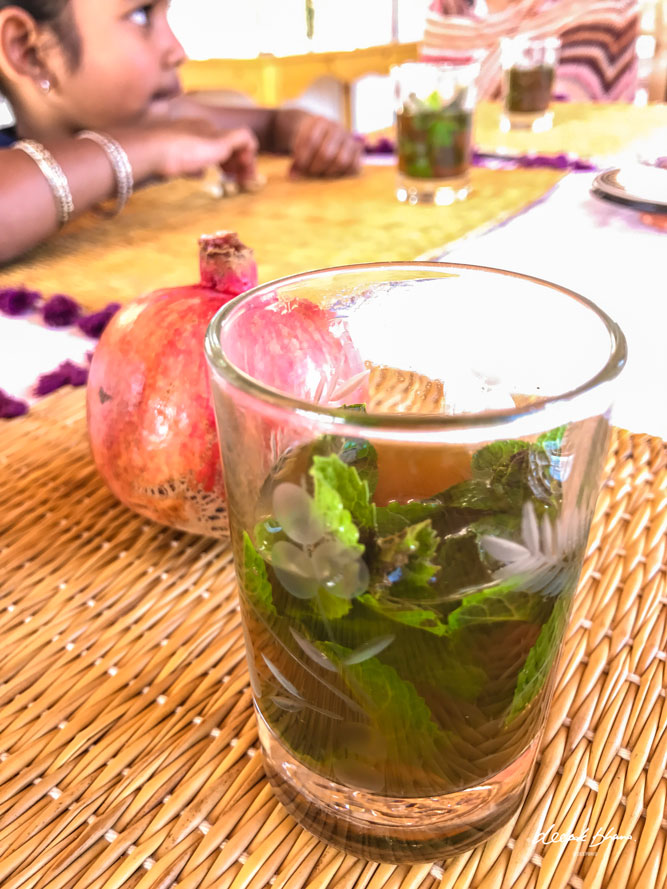 2. Msemmen with jben for breakfast
Ok, so we pretty much had the same breakfast in every riad we stayed in. Normally, the need for variety would kick in very soon, but for some reason we didn't mind. One of the staples of a Moroccan breakfast is msemmen, a flat pancake-like bread made from flour and semolina. It has a slightly odd yeasty smell at first, but that scent soon became quintessentially Moroccan to us. Then we realised it goes perfectly with pretty much everything else on the breakfast menu. Jams. Olives. Most of all, coffee. And topped with a creamy Moroccan soft cheese called jben, it really comes into its own. We really didn't feel bad that we were getting the same fare every morning.
And we're probably not going to get authentic Msemmen again outside of Morocco, so we enjoyed every bite!
3. Moroccan bread
This humble, usually round loaf is absolutely everywhere. And like many examples of Moroccan food, it's cheap. No matter how they serve it (you could probably write a thesis exploring the different shapes different people cut it into!), it's the same down-to-earth staple in every location. You can just grab one on the go, tear hunks off and pass them around. For us, it was a happy sight when served beside a hot tagine. Dip it in some of that olive oil or tagine broth/sauce and it soaks it up just perfectly.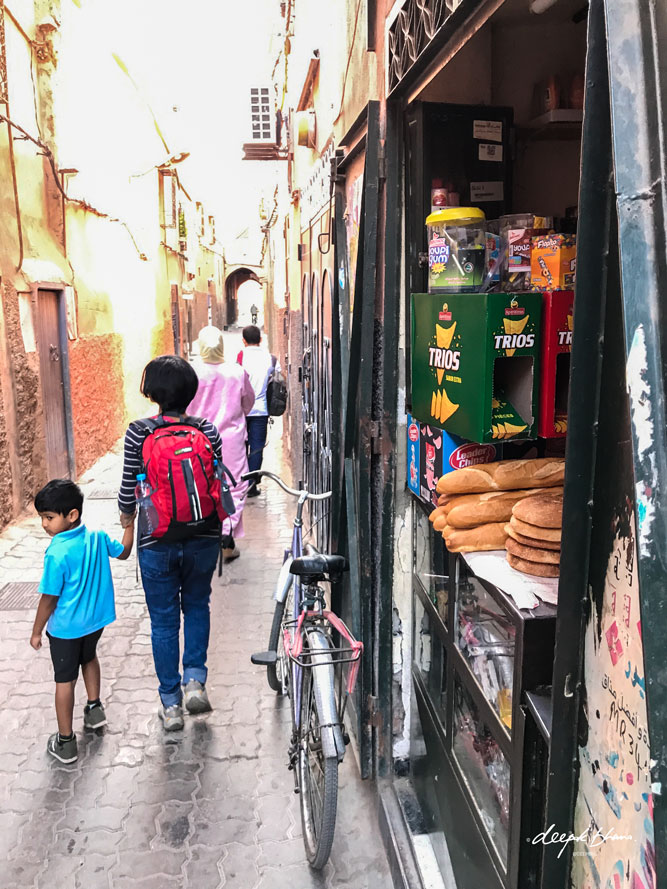 4. Chicken tagine with lemon and olives
For us this was the ultimate taste of Morocco; and the only one we have (repeatedly) tried to replicate since. Nothing else in Morocco looks quite like this, or delivers its initial aroma. When they lift the lid from the tagine, there is a little mountain of perfectly braised chicken topped with yellow strips of preserved lemon. Olive oil is still sizzling around the olives in the base of the tagine. The fragrance of zingy lemon hits you, mixed with the earthiness of cumin. Then you get see the moroccan bread – and all is right with the world.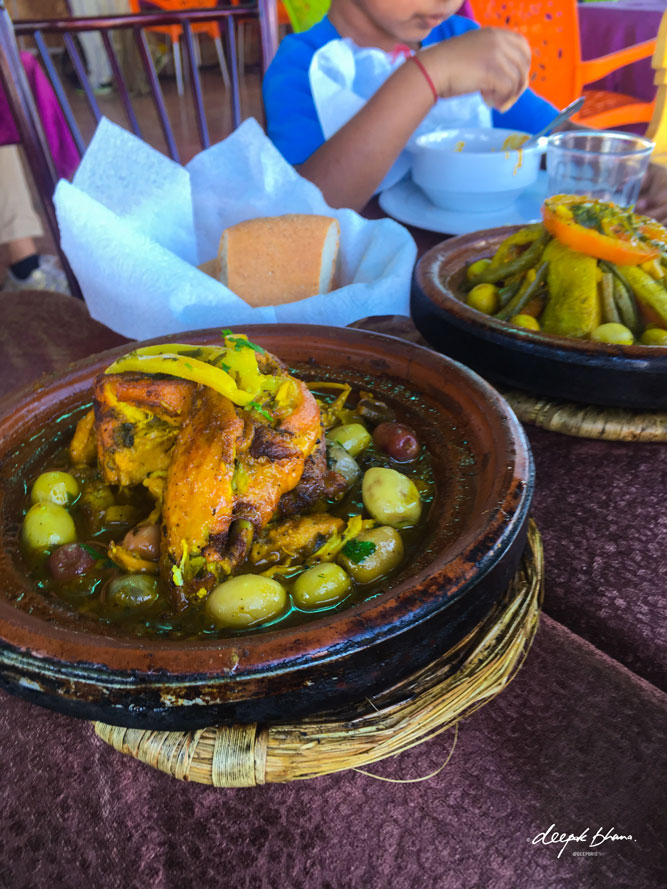 5. Beef (or goat) tagine with prunes and Moroccan figs
As far as tagines go, this one comes a close second to the diabolically good chicken/lemon/olive version. And it's probably not the meat that brings the happiness on this one; it's the prunes. Whoever decided to take a prune, encrust it with sesame seeds and place these carefully in amongst the braised beef, was a genius. The sweetness it imparts to the dish is gorgeous. Adding figs to this recipe (round figs, not the teardrop-shaped ones common in European cuisine) adds a depth to this sweetness. It all just works.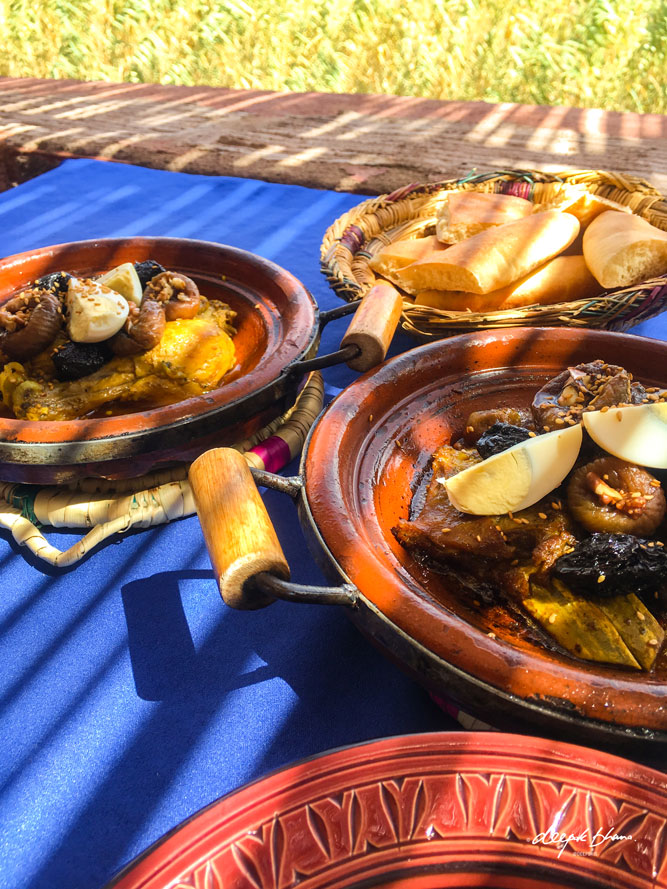 Vegetable tagines are also easy to find, so nutritionally balanced and delicious: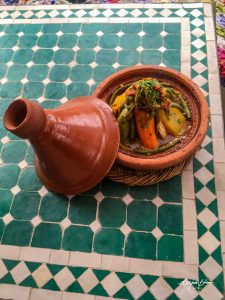 .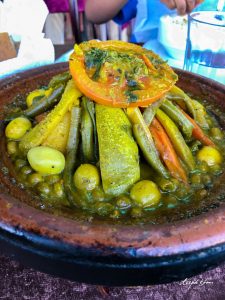 6. Mille feuille
For dessert, another unexpected flavour hit. French history and influence has of course extended to Moroccan food: it's no surprise that there are a wide variety of pastries to enjoy. These are very easy to find in the medinas, while French-style patisseries can be found in more modern areas.
The reason that mille feuille (layers of pastry with alternating fillings of cream/custard or jam, and a sugary icing on top) turned out to be a Moroccan food memory, was the filling. Instead of jam, these pastries included a sweet date preserve. Perhaps our memory of dates comes from watching old movies, or once was a gift from famliy friends during our childhoods. Whatever the reason, there is something about dates that is so exotic to us. It brought home that we were now in North Africa, with all that history and culture surrounding us.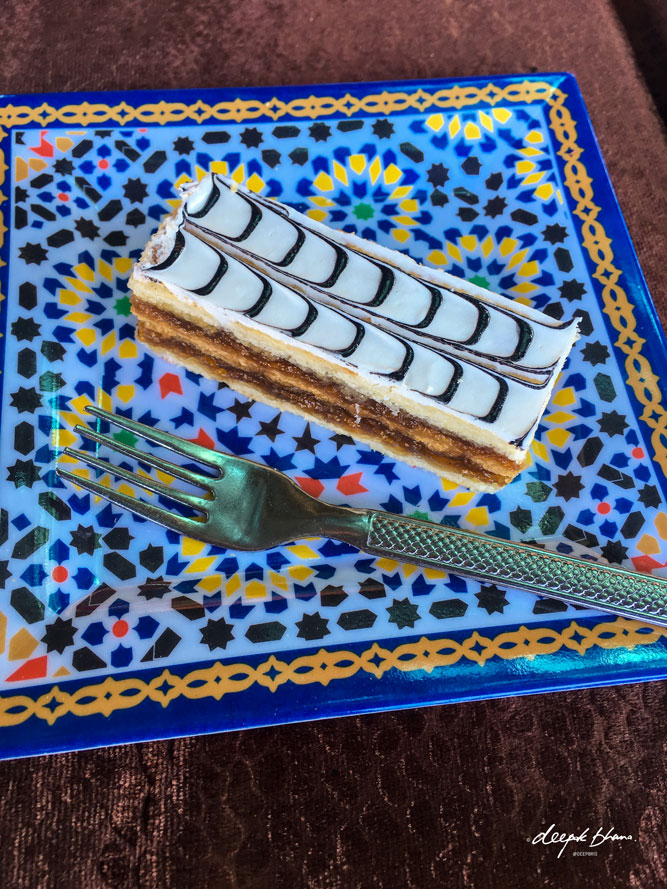 The dates themselves in the pastry deliver a depth of flavour that grounds the sweetness and indulgence of the dessert itself  – and that is the only real 'foodie' type comment in this story!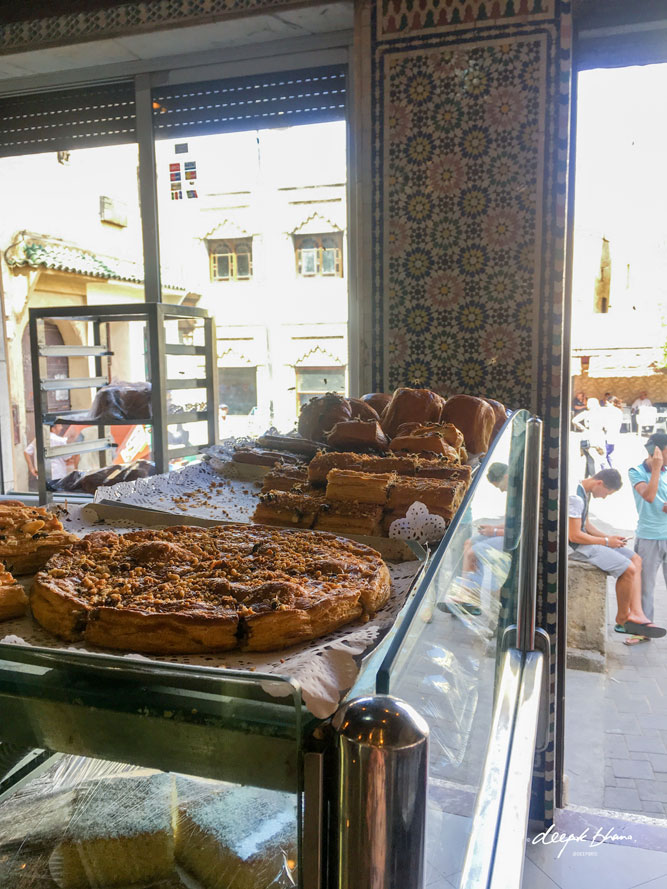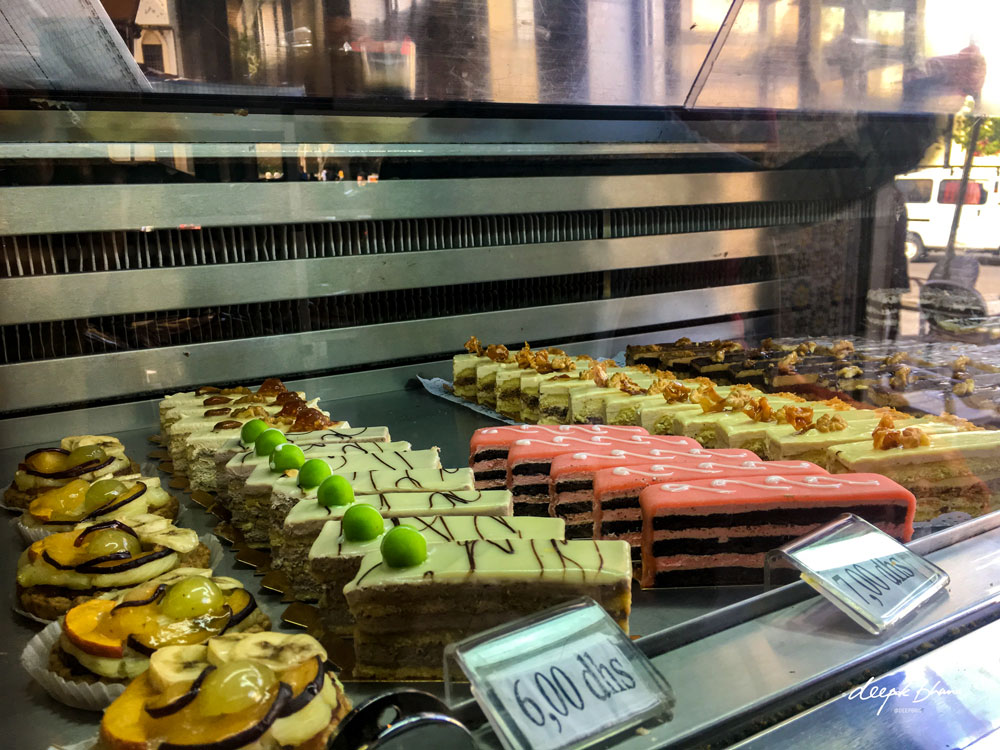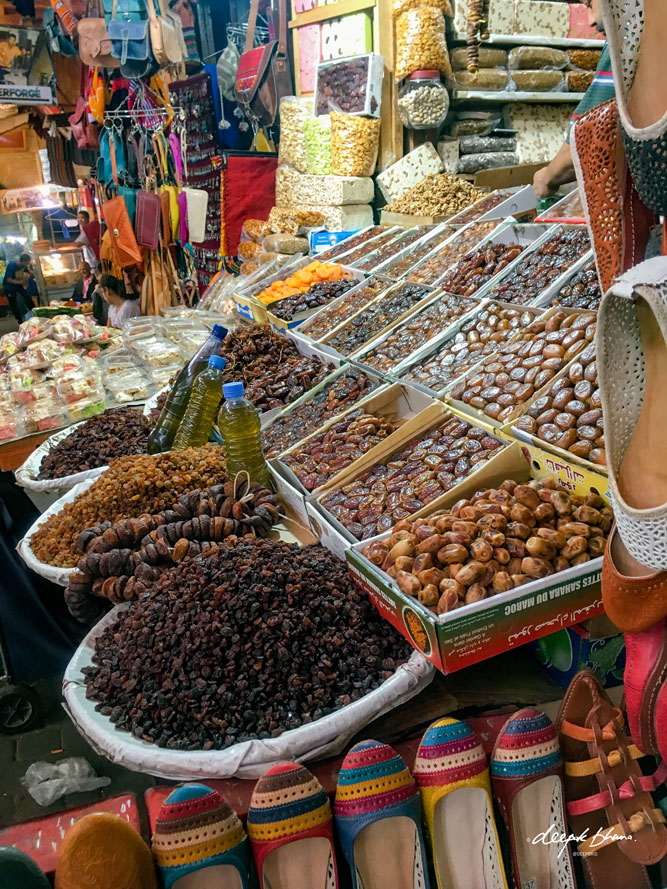 7. Harira soup
Ok, we said 6 foods, but this one is a bonus! How could we forget Harira?
Harira is a wholesome, hearty soup whose prime ingredient is chickpeas (because we had the vegetarian version, but lamb is just as often included). It's bold, tomato-ey, spicey – expect the flavours of cumin, ginger, black pepper – and served piping hot with the ever-present Moroccan bread. This would be the perfect winter meal in Morocco. We understood that it is often served during or at the end of Ramadan – and when we visited it was already a few days after Eid, so that was lucky for us! Harira delivered that that homely, traditional, extra-special feel – and yes, we asked for it again the next day!
What Moroccan food are you anticipating on your own trip? Or what have you tried that others should put on their list? (we'll return one day, so this might be for us) Please comment below and let us know!
For more of our food opinions while travelling – and if you're a vegetarian! – check out this story.
Or if you're dreaming about Morocco, here's a hit of photo inspiration: The amazing Telouet Kasbah.
TRAVEL LOVE IS FOR EVERY DAY. LIKE TODAY!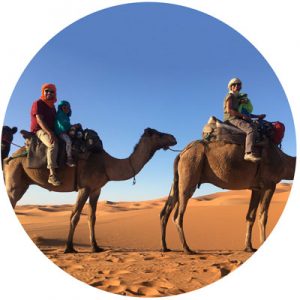 This site is about being inspired by what's real out there, on journeys that matter to you.
We're a normal working family, not endless wayfarers or travel agents! We love exploring; in our daily daydreams, and on our trips.
Todayfarer gives you our travels, photos, views, and tips for getting more out of your own authentic, positive world experiences. 
Maybe you're a 'todayfarer' too.  
Categories