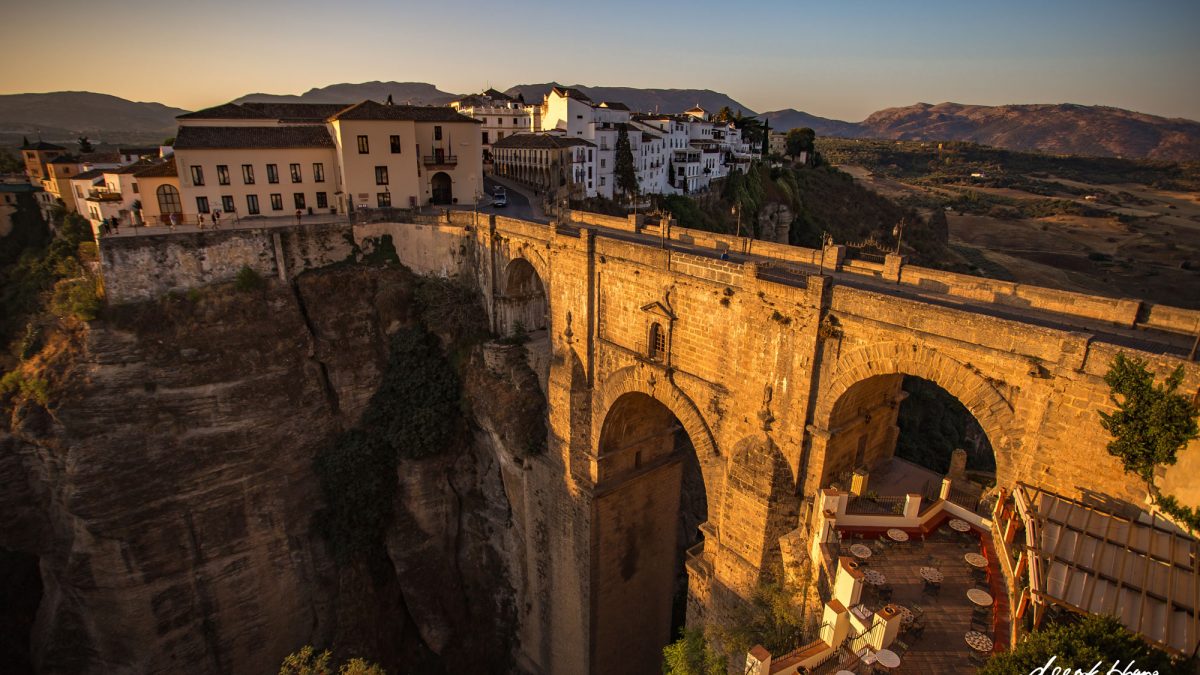 6 reasons why Ronda bridge view accommodation is worth it
todayfarer
0
6 min

read
2202
Ronda, Spain. A ridiculously picturesque part of the world.
And we were so glad we chose accommodation with a view of the Ronda bridge.
Planning our first trip to Spain, we were excited at the prospect of tasting all that Barcelona had to offer. Of course the relaxed culture of Seville was always a must-do. Other places were appearing on, and dropping off, our wishlist: Madrid. San Sebastian. Salamanca.
But this little town, Ronda? We had never heard of it.
Then a work colleague described it to me, from a bus tour she had done a few years earlier.
Described it. No pictures, no video, no shared links. She simply described the Ronda bridge, where her hotel room was in proximity to it, and what the town felt like, and I was hooked. (Thanks, Deborah!)
We planned our trip, so we knew more about Ronda from that moment on, but knowing and experiencing are two very different things.
After a full day of travel that started in Chefchaouen, Morocco and took us through 9 hours by road, sea and rail, we arrived in the little town. A 20 minute walk with our heavy bags on our backs, a professional smiling welcome from our Airbnb host Jose, 2 flights of stairs, one step up on to the balcony – and once we saw that view, the day's travel was forgotten.
We spent more time on the balcony of our Ronda bridge view accommodation, than any other of any trip before or since. And this is why:
1. Well, the Ronda bridge!
Built something like 225 years ago, the Puente Nuevo (New Bridge) is one of three bridges spanning the Guadalevin River , and as its name says, it is the newest. It is also the most striking – from any angle, and there are a few angles you get to see as you wander around – and one of the main reasons Ronda is on the map for travellers.
History aside, the New Bridge is visually strong and proud – 120-metre high columns, constructed from stone blocks. It feels big enough to be astonishing, but small enough not to be overbearing. This one definitely draws the crowds.
Yep, I said 120m high – that's higher than the Victoria Falls, or the Flatiron building, or twice as high as the Arc de Triomphe. Worth a visit to a tiny Andalucian town.
2. Fields of gold at sunset
It's not hard to drag your eyes away from the Puente Nuevo, because it sits so well within the expansive view of the valleys on either side. Arriving at sunset, as we did after our full day of travel from North Africa, we were rewarded with the warmest welcome; a Mediterranean vista dotted with golden fields, olive groves, farmhouses, and those distant mountains, all framed by the white buildings of the town receding on either side. If you ever dreamed of the western European countryside, this one view might be the stuff of those dreams.
3. The mist at sunrise
Don't forget the mornings: in September, the air is crisp enough to wear a blanket out on the balcony (the kids sure did!) and watch the sunrise. I choose to believe there was a heavy mist coming in from the east, although there were moments I wondered if it was smoke. You be judge: picture below (Feel free to comment: what do you think?) But with no smoky smell, I choose mist. It seemed to have a direction of its own – it headed straight to the Gorge and dropped down like a lazy waterfall. The next morning, there was no sign of it, but the air was still cool and fresh and that sunrise is worth waking up early for.
4. People watching 
I know I mentioned that Ronda draws the crowds. It's true, and there is no escaping them – unless you happen to have an apartment or hotel room right above… you get the point. In the early mornings and late afternoons it is quiet enough to stroll down to the bridge and check out the view from the other side, touch the stone, admire the history. People are friendly and courteous, tourists and locals alike.
But during the day you know the tour buses are pouring in with day-trippers, which is fair enough, and as they play follow-the-leader there are lines of people snaking their way through each other on the Puente Nuevo.
At times like that, it's great to have a view from above (whether you want to be seen up there in your lucky spot, or not – I won't judge you) so you can get lost in the spectacle without losing your mind as well.
Although I wouldn't have minded being on the bridge when these brides came through, I would have made much better pictures!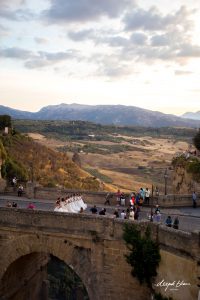 5. Who needs restaurants?
With a view like that whenever you want to appreciate it, it seems almost criminal to head into town for a long dinner. (As fine as the restaurants might be.) So we headed to the supermarket every day for great bread, juicy olives, sardines and salads, tomatoes, fruit. And of course, Spanish wine. We sat out on the balcony for every meal. Appreciated where we had come from. Anticipated where we would go. And we made the Puente Nuevo the 5th member of our family… If only for a couple of days.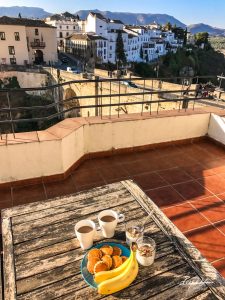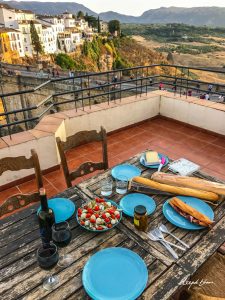 It's true you know: a special view makes food taste even better.
6. Make memories
Memories are made by how deeply you feel where you are, and what you're doing. Spending as much time as we did looking out over this slice of Andalucia – oh yes, we did explore the town, the Bullring, the Arab Bridge, and more – the memories of the view have not faded one bit.
We appreciated how the valley lights up softly in the morning. How the bustle below brings the bridge to life. How the entire view quietens down at the end of the day. And it feels like 'golden hour' lasts just a bit longer…
It is definitely a view to put some extra time into appreciating.
For more stories and photographs from Spain, check out:
10 reasons why we love Seville, Spain
Were you lucky enough to rest your head just above the Puente Neuvo like us? Or know some other Ronda secrets? You can share in the comments below. Happy travels!
TRAVEL LOVE IS FOR EVERY DAY. LIKE TODAY!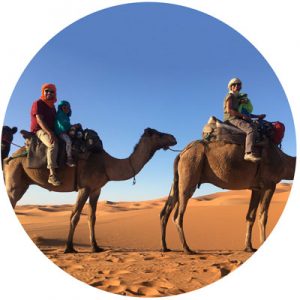 This site is about being inspired by what's real out there, on journeys that matter to you.
We're a normal working family, not endless wayfarers or travel agents! We love exploring; in our daily daydreams, and on our trips.
Todayfarer gives you our travels, photos, views, and tips for getting more out of your own authentic, positive world experiences. 
Maybe you're a 'todayfarer' too.  
Categories